About Bone Dry Roofing
In business since 2007, Bone Dry Roofing's Lafayette office has the answers you need for local roofing services. We are a one-stop solution for all of your home improvement projects, and we are extremely well known in the community – you've probably seen us driving around in our red trucks! Bone Dry has built its reputation as the premier roofing contractor across the Midwest since it opened in 1989, with ten offices across six states, and we are proud to be a part of that legacy.
With over 25 years of experience, our workforce is both knowledgeable and friendly. Our staff goes through an in-house training program and daily safety training, as well as certification and training by industry manufacturers. Bone Dry Roofing strives to provide consistent service and procedures to give our customers the best possible home improvement experience.
About the General Manager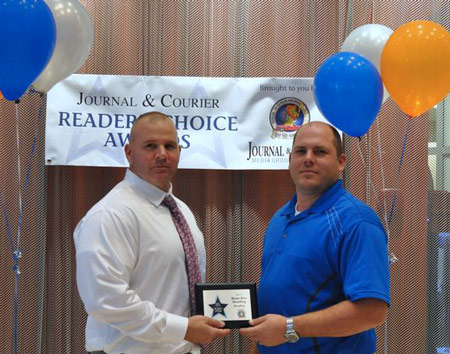 Matt Deckard (on left), General Manager, is in charge of day-to-day operations at Bone Dry Roofing.
Matt Deckard is a roofing industry veteran with extensive leadership experience to help him run Bone Dry Roofing. At the age of 15 he worked at his father's construction company, and he has held several management positions for roofing companies since that time. Matt is also an OSHA certified and Owens Corning Top of the House contractor. He joined Bone Dry Roofing in 2011 and became a shareholder in 2015.
As the General Manager, some of Matt's primary roles are following up with customers and inspecting job sites to make sure the crews are completing installations correctly. Matt loves delivering exceptional results that satisfy his customers and exceed expectations!
Outside of work, Matt and his family enjoy relaxing and spending time together in their home in Lafayette.
Giving Back
Here at Bone Dry Roofing, we believe in showing our community just how much they mean to us. We have sponsored local baseball teams, and we have also supported many organizations. We have worked with United Way, the Wounded Warrior Project, Habitat for Humanity, and many other companies and programs - read more about our community involvement!
Our Certifications and Awards
Over the years, Bone Dry Roofing has been recognized several times for our skills and dedication to customer service. We are an Owens Corning Roofing Platinum Preferred Contractor, and we are also Top of the House Certified and have taken the Shingle Recycling Pledge through Owens Corning.
As a certified member of the National Roofing Contractors Association (NRCA) and with an A+ rating with the BBB, we have built a reputation for reliability and exceptional service. Additionally, we have been awarded the Journal Courier Reader's Choice Award for best rating every year since 2012. Plenty of customers and organizations alike have put their faith in us and are not disappointed with the results!
About the owner
Gene Judd
Gene Judd is the President and CEO of Bone Dry Roofing. He has a lifetime of experience in the industry, as he got his start in the roofing business as a kid.
In 1989, soon after he graduated from college, Gene started Bone Dry with just a truck and a garage office to its name.
Gene holds roofing certifications from Owens Corning, CertainTeed, GAF, and Air Vent Inc. His experience, combined with his dedication to his customers and his hands-on attitude, drives Bone Dry's success each and every day!
Looking for a price? Get a no cost, no obligation free estimate.